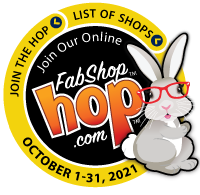 October FabShop Hop bunny hint: If you are CROSS while STITCHING...does that make you in a bad mood?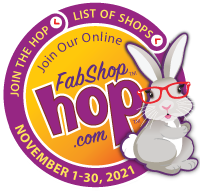 November FabShop Hop bunny hint: If we all PATTERN our lives from a great example, we would be such a happier people
2021 HOLIDAY EXTRAVAGANZA
SHOP HOP!!!
11 Wonderful Quilt Shops! Drawings, goodies, sales,
discounts, demos, fun, fabric, and FREE ornament pattern from each shop! Start your holiday shopping with Glitz and Glitter!
Pick up your Passport at one of the participating shops:

Home Grown Quilts Lewiston and Grangeville,
Your Best Friends Quilt Shop Grangeville,
The Wild Hare Orofino,
Rather-Be's Pomeroy,
Becky's Fabric Lewiston,
Grammy G's Quilt Shop Palouse,
Stitches & Petals Moscow,
Palouse River Quilts Colfax,
Material Girls Orofino and
Patricks Crafts Clarkston.