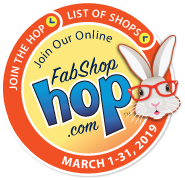 Hint: Ewe will LOVE our selection of polyester, acryllic and wool! ....let us tell you a 'yarn' or two....
Welcome to Home Grown Quilts!
We're an exclusive Husqvarna Viking dealer offering expert sewing machine sales, training, and repair services.
Whether you're looking for amazing fabrics and handy sewing notions or you'd like to join us for one of our fun, interactive classes, you're bound to find something here to spark your imagination and help you successfully finish your projects.
For your convenience, we also provide professional long arm and custom quilting services, as well as a variety of Cascade Yarns. We have two convenient Idaho locations, in Grangeville and Lewiston Idaho, along with a team of friendly, knowledgeable staff members who are dedicated to meeting your creative needs!*******************************************************************************************************

We're bringing it back! Our annual UFO (Un-finished Objects) Challenge. This is for BOTH of our store locations!.
In January/February/March we are giving you the chance to FINISH some of your projects that are just sitting in the corner (....I'm looking at you massive king size paper pieced wedding ring quilt) begging to be finished.
It doesn't matter the stage of your object. It could be that you have just cut it out.... it could be that you just need to bind the something... we don't care.

Each of those three months bring in up to 3 UFO's no later than the 10th to register them for $1 each. Return with any or all of them completed by the last day of the month and for each one finished your name will be entered into a drawing. We'll draw a name each month and the winner will receive a $50 gift certificate to the shop! Just think.... if you play for all three months you could finish up to nine projects.... and maybe win $150 to shop at Home Grown Quilts.

For quilters, UFOs may be quilts, table runners, or wall hangings or purses, etc... - no size restrictions. For knitters and crocheters, anything unfinished on the day of registration is eligible. For Cross-Stitchers/Embroidery peeps- bring anything in that is unfinished.

We will even give you another incentive: We'll give you 15% off of any supplies you might need to finish up that project you've been keeping in the naughty corner.
We look forward to seeing what everyone brings in for thee challenge!
----------------------------------------------------------------------------------------------------------------------------------


Home Grown Quilts is host to Grangeville's Outdoor Quilt Show!

Our Outdoor Quilt Show is every odd September...
look for our next Outdoor Quilt Show Saturday, September 7, 2019...
over 200 quilts on display!
Downtown Grangeville, Idaho