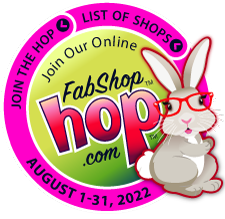 AUGUST FabShop Hop bunny hint: Cash can't purchase joy, yet it can acquire YARN which is sort of the very same thing isn't it?
Home Grown Quilts has TWO brick and mortar locations:
Lewiston, ID shop location @ 2125 14th Ave, Lewiston Idaho
Mon-Fri 10 am to 5 pm, and Sat's 10 am to 3 pm.
Phone: 208-743-0503

Grangeville, ID shop location @ 207 W Main St. Grangeville
Mon-Fri 9am to 5pm, and Sat's 9am to 3pm
Phone: 208-983-0254

Quilt Shows 2022 we will be vending at...come see us!
Mar 25-26 @ Tri Cities, WA
Apr 9-10 @ Moscow, ID
Apr 23-24 @ Clarkston, WA
May 13-14 @ Yakima, WA
Jun 10-11 @ Coeur d' Alene, ID
CRAZY 8 SHOP HOP!: AUG 4-5-6 (call for info)
Sep 16-17 @ Walla Walla, WA
Sep 30-Oct 1 @ Boise, ID
Oct 14-16 @ Spokane, WA
AND, our staff Scissor Sharpener may be doing his magic at our booth...call to confirm.